Navy Data Processor's Association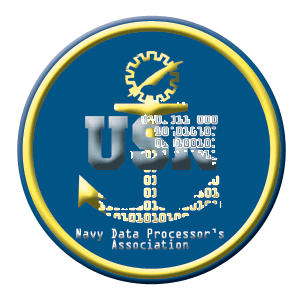 The Mission of the Navy Data Processor's Association is to:
·bring together, through internet forums and mini-reunions, past and present members of navy data processing ratings
·promote camaraderie
·collect and preserve memorabilia of the rating
·Assist with the formation of, and provide support to, area and regional chapters
·emphasize the importance of past service to the United States of America
The History of the Machine Accountant/Data Processing Technician Rating: Originally one of the Emergency Service Ratings of WW II, designated "Operator, Electrical Accounting Machine" and also referred to as Spec (I) or IBM Specialist . During the Navy's major rating review of 1948, the Machine Accountant (MA) rating was established when the ESR ratings of Specialist (I) and Specialist (X) (KP) "key punch operator" were combined into the MA rating. The rating name was changed in 1967 to Data Processing Technician (DP).
The Navy disestablished the DP rating in 1997 and combined those DPs, who did not change ratings, into the Radioman (RM) rating. In 2000 the Navy changed the Radioman rating name to Information Systems Technician (IT).
The Cryptologic Technician (Communications) (CTO rating) will combine with the Information Systems Technician (IT) rating in 2006. E1-E5 CTOs will be ITs effective 1 MAR 06 and E6-E9 CTOs will be ITs effective 1 OCT 06. It is stated that the merger will, among other savings, reduce infrastructure costs, improve customer service and IMPROVE QUALITY OF LIFE for the sailors involved.
÷Our association name, Navy Data Processor's Association, as opposed to Navy Data Processing Technician's Association is an attempt to accommodate the Machine Accountant and Data Processing Technician rating names.
Our members are discussing how to identify those new Information Systems Technicians (ITs), who are doing non-Radioman duties, but who never wore the older DP rating mark. Our first thought is that if you graduated from the USN Data Processing Technician "A" School, you're without question a DP and not a Radioman doing extra duties. Please give us your thoughts on how to address this major change to the DP rating "timeline".
Future plans for the NDPA:
Collecting and displaying MA/DP memorabilia
Purchase a group plaque for the Navy Memorial in Washington, DC
Possible reunions, or mini-reunions
Possible regional sub-groups
NDPA shirts, decals, coffee mugs, etc.
Growth through member's input
NDPA Bulletin Board Forum and Join Us: Click Here
Links: (please use your back button to return to this page)
NDPA Bulletin Board/Message Forum
NDPA Plank Owner's Info and Listing
The Navy Memorial (LoneSailor)
DataSystemsTech.com(our DS buddies)
Navy Historical FAQs (bluejacket.com)
USNTC Bainbridge Historical Association
San Diego Navy Historical Association
Naval Enlisted Reserve Assn. (NERA)
U.S. Navy Dress Blues, Tailormades, Liberty Cuffs and Locker Clubs
Contact: Kdpcsdan@att.net (note: Remove the "K" to e-mail us)
DISCLAIMER
This web site is not associated with the U.S. Government, Department of Defense, the U. S. Navy, or any other government agency. All information within is declassified material that is easily obtainable from various sources. All opinions herein are those of the NDPA members and do not officially reflect the views of any government agency.
Copyright © 2005-2017 navydp.com All Rights Reserved